8 Tips for Cooking Grass-Fed Beef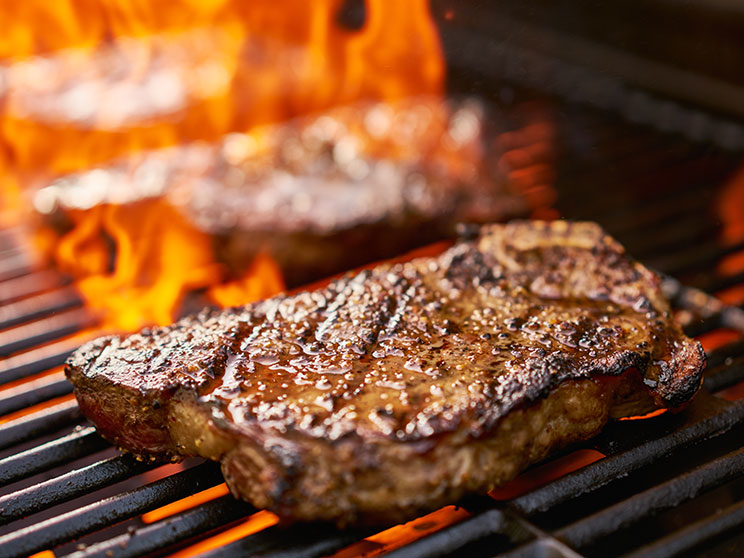 Whether it's the neighborhood grills firing up in summer or the kitchen aromas from your mom's holiday roast, few things make us feel at home like the smell of beef cooking. When we crave a hamburger, steak or roast, we can't help but try to recapture those sense memories even as we work to improve on the past.
The good news is, you can make the switch to healthier, humane grass-fed beef without sacrificing an ounce of flavor. However, it does cook a bit differently. And if you've grown up grilling or cooking with grain-fed meats, there are a few things to keep in mind when cooking grass-fed beef. Follow these handy prep tips to ensure you always get the juiciest, tastiest results:
Butter up
Grass-fed beef is typically lower in fat than conventional meat, so coating it with grass-fed/pasture-raised butter makes for easy browning. The added butter will also prevent the meat from drying out or sticking to your cooking surface.
Don't fork around
Always use tongs to turn grass-fed beef. By not piercing beef with forks or knives during cooking, you'll keep juices in and avoid drying out the meat.
Take your time
Always thaw grass-fed beef in a refrigerator, not in the microwave. One pound of grass-fed beef will take up to 24 hours to thaw in a refrigerator, but it will cook better than if defrosted with heat.
Watch your speed
Grass-fed beef cooks faster than grain-fed beef. Use a thermometer to test for doneness and watch the temperature. It's easy to go from perfectly done to overcooked in a very short amount of time.
Think pink
Grass-fed beef is ideally cooked at rare to medium-rare temperatures. But even if you want medium-well, you should avoid grilling or roasting it as long as you would corn-fed beef. The meat will continue to cook after you remove it from the heat—so when it reaches ten degrees below the desired temperature, it's done.
Sear it first
When grilling, quickly sear the meat over high heat on each side to lock in juices. Baste to add moisture and reduce heat to continue cooking. If roasting, sear the beef on the stove in frying pan or cast iron skillet before placing it in a preheated oven.
Don't overdo it
Grass-fed beef should be at room temperature before cooking to avoid overcooking. Preheat your oven, pan or grill before cooking. When roasting grass-fed beef, reduce the roasting temperature by 50 degrees.
Let it sit
For ideal taste and texture, grass-fed beef should sit covered and warmed 7 to 10 minutes after removing it from the heat.

With so many far-reaching benefits—from heart-healthy Omega 3 fatty acids and cancer-reducing CLA to more humane and sustainable ranching practices—it's easy to see how 100% grass-fed, pasture-raised beef products are a better choice for animal welfare, the environment and your family's wellness. By following these preparation and cooking tips, you can ensure grass-fed beef is always the better tasting choice too.
Looking for more ideas to make your next meal sizzle? Check out some of our favorite grass-fed beef recipes.